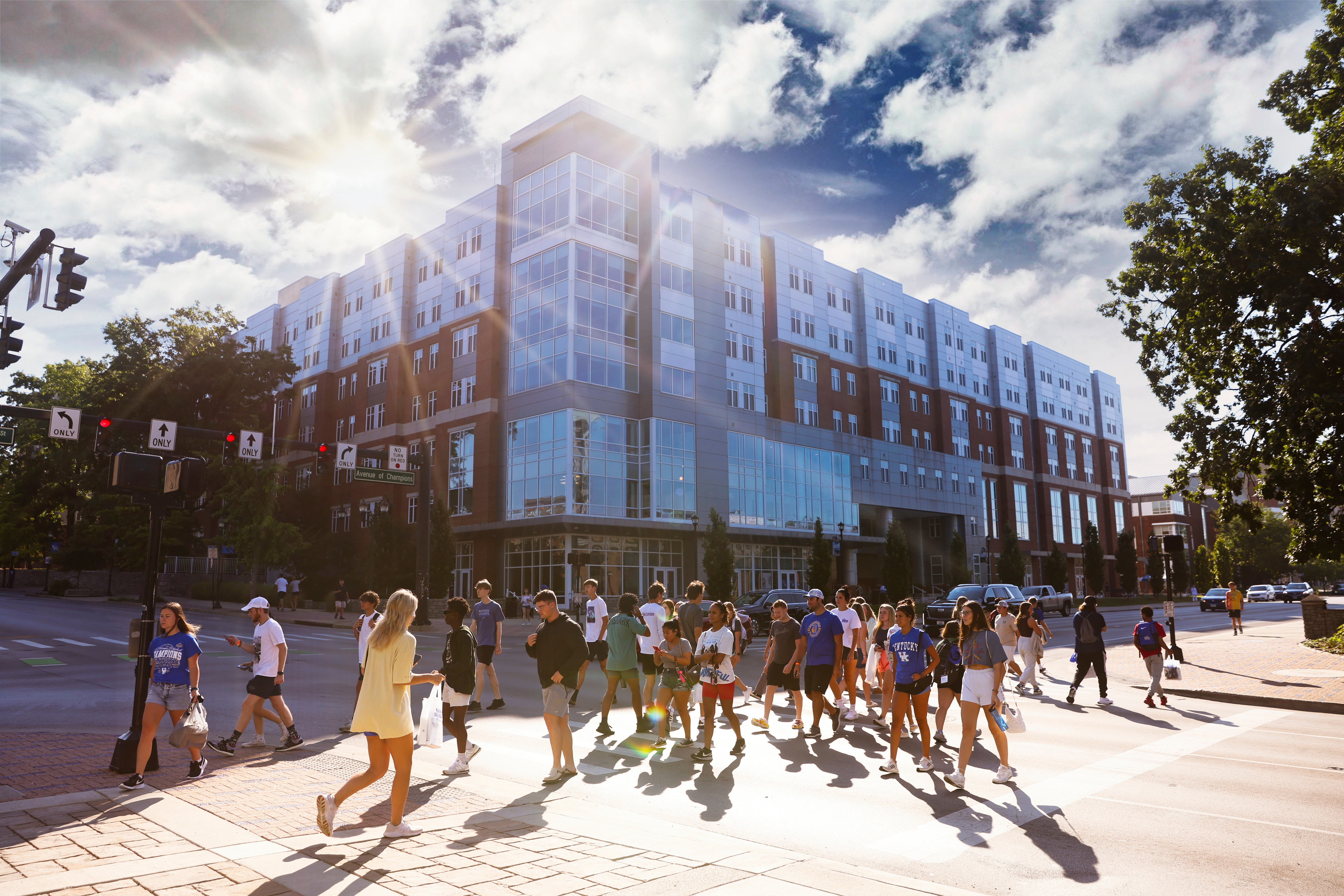 September 2023 Board of Trustees Meeting
President's Report
Something more … for our students, for Kentucky
"I want something more."
That was Ashton Martin's sentiment this summer as he stood on the terrace of an 18th-century Neoclassical complex dedicated to arts and education in the heart of London.
Overlooking the River Thames, and some 4,000 miles from his home in Breckenridge County, Kentucky, Ashton remarked that "since I'm first generation, I wasn't really pushed to go to college."
"But I want something more."
At your strong direction, and on behalf of this state, something more is exactly what we provide at the University of Kentucky.
Ashton is a member of the class of 2026 and was in London this summer as part of a program we believe is only found at the University of Kentucky. 
Explore First: Careers, Cultures and Connections is an education opportunity developed by our Office for Student Success' Stuckert Career Center, First Generation Office, and International Center.
The initiative was funded by state legislators, who are focused as our partners on creating educational opportunities.
Staff and faculty worked together to provide 60 such UK students with a three-week educational experience in London or Dublin.
The students focused on career readiness. They were exposed to cultural and career settings at places like LinkedIn, Diageo and Compass group as well as Kentucky-based companies with European offices like Alltech and Gray Construction. 
They heard from executives on those teams, some of whom were first-generation college students themselves, about their paths to success.
For some of our students, the experience abroad was their first plane ride.
But they learned that wanting something more doesn't have to be a dream dashed or an aspiration too ambitious, too high to reach, or too far from their grasp.
It's an expectation that can be met.
It's the potential and power of the distinctive education we provide at the University of Kentucky.
Today, I have the privilege, as I do each year, to speak with you for a few moments about the numbers – the enrollment figures, retention and graduation rates – that detail the progress we have made in recent years in putting students first at the University of Kentucky.
But behind each number is a story.
And in each story, there is a reminder of who we are and what we are meant to do as Kentucky's university.
Ashton is one of those stories.
As we walk through the numbers today, I hope you think about Ashton and the thousands like him – Kentuckians and others from all walks of life – who come to UK wanting more and finding opportunities to pursue it.
Our progress …
Over the last decade, because of your support, the work of thousands of faculty and staff and the commitment and capacity of our students, we have rapidly accelerated the success rate of students – even as we continued to grow enrollment.
In the 2010-2011 academic year, we awarded a little more than 5,800 total credentials, including degrees and certificates. In the 2022-2023 academic year, that number was almost 9,500.
Degree production has increased from about 5,800 in 2010-11 to nearly 8,200 in 2022-23, based on preliminary data. Meanwhile, certificate production has increased from less than 100 to almost 1,300 over the same time.
Those students are joining the workforce, many of them in Kentucky, equipped and ready for jobs, careers and building communities across our Commonwealth.
Graduation and Retention
Our progress with graduation and retention rates has, in some ways, been even more remarkable.
Since the fall 2006 cohort, four-year graduation rates have increased by 27 percentage points; five-year rates have increased by 17 percentage points and six-year rates have increased by more than 12 percentage points.
Historic Graduation Rates
Indeed, this fall – for the first time in our history – we are marking a six-year graduation rate of 70 percent. This number places us among the top 100 public institutions – and top 20 percent – in the country, based on the most recent data.
It also is an achievement that you set in motion. This Board challenged us in October 2015 when we passed our previous Strategic Plan to reach a 70% graduation rate. Your vision to push us carried through to today – in this first full class once that plan was set in motion. 
Historic Retention Rates
We know that when we retain students – particularly from their first fall to first spring as students and then if they return for their second year of college – they are much more likely to graduate.
Often, that means early and regular interventions from faculty, student support staff and others, to detect challenges early, offer help and provide guidance.
For example, a group of some 80 professionals meets each Friday for nearly 90 minutes, to pore over data, detect emerging trends and develop strategies.
These also are intensive efforts, conducted student-by-student, with dedicated professionals and instructors who care deeply about putting students first.
The results are unmistakable: After second-fall retention rates stubbornly persisted in the low 80s for many years, here too we have experienced a sustained period of progress.
Four institutional records in a row were established from 2020 to 2023. After weathering the challenges faced by our incoming students during the pandemic years, that momentum from these records has led us to a preliminary second-fall retention rate reaching 87 percent for the first time. More students than ever before are coming to UK, staying at UK and graduating from UK.
Overall Enrollment Growth
We have grown from just over 28,000 students in fall 2010 to more than 34,000 students enrolled this fall at the University of Kentucky, reaching that mark for the first time in UK's history, based on preliminary data. We have reached a milestone for our undergraduate population as well, exceeding 24,000 students for the first time.
A Focus on Kentucky
We don't grow for the sake of numbers. We grow for Kentucky.
And as we have discussed before, we haven't made progress by getting smaller, more elite and more selective.
We believe in Kentucky. We believe in Kentucky's students. We believe in Kentucky's future.
Sixty-five percent of our students come to us from Kentucky – a raw number that is larger than last year and has grown steadily over recent years.
A Focus on Belonging
Similarly, the overall number of Underrepresented Minorities (the official state designation for students of color) has grown as well.
This fall, nearly 17 percent of students at UK come from underrepresented populations, up in both number and percentage over last year.
This continues an upward trend in our URM enrollment that has produced more than 1,400 credentials earned by students of color in 2022-23, a 251% increase since 2010-11.
More Work To Do
But as much as we have done, we know that there is always more to do.
We have made progress in the last decade in the numbers of students who graduate from UK from households with lower incomes.
Indeed, we have been driving much of the state's growth here. But it has been uneven. And we must remain vigilant about how we help even more Kentuckians, challenged by economic circumstance, succeed at UK.
First-year Enrollment
Many of the same powerful and positive trends that exist with our overall enrollment are reflected in this first-year class as well.
A record, nearly 6,500 first-year students are at UK to open this fall, about 400 more students than last year and exceeding 6,000 for the second year in a row. For context, we enrolled over 2,100 fewer first-year students in fall 2010 at just over 4,300.
They reflect a sustained commitment to growth in recent years that was only briefly interrupted during the two years we, and all institutions, grappled with COVID.
Representing Kentucky … Representing the World
Sixty percent of these students come to us from Kentucky; 40 percent come from other states and countries.
The percentage of out-of-state students is a small increase over last year, but we are – in terms of numbers – working to educate more Kentuckians this year, even as the number of high school graduates in the state has been flat or declining.
Providing Opportunity
As with our enrollment in total, both the percentage and number of first-year students who come to us from underrepresented backgrounds continues to grow.
Nearly 19 percent of UK's first-year student population is an underrepresented minority.
Our commitment to students like Ashton continues to grow as well. This fall, nearly 25 percent of first-year students at UK are first-generation college students, up in both number and percentage from the previous fall. Our first-generation enrollment trajectory has propelled degree and certificate production from about 1,200 in 2017-18 to almost 1,900 in 2022-23.
We know these students, after they graduate, will return to communities, ready for careers, prepared for lives of meaning and purpose and poised to change the trajectory of their families and futures for generations to come.
That's how we change Kentucky. That's how we create a state that tomorrow is healthier, wealthier and wiser than it is today.
We know from the budget you adopted in June that these students – those who are the first in their families to attend college and those who come from the most challenging of economic circumstances – are receiving the most aid and assistance to join this community and succeed.
Programs like LEADS and UK Invests … efforts to close the technology gap like our SMART Campus initiative … and other solid strategies that represent the best practices in their fields … are making a difference.
They are working.
Because you know – and we know – that if … and when … these students succeed, Kentucky will also succeed.
We Are Not Done
I want to thank you for your clear-eyed, far-sighted and steady support for the path we have taken.
I want to thank our faculty, staff and students for their tireless efforts, endless sense of resolve and the deep dedication they have for each other and our community.
We are proud and pleased.
But we are not stopping, and we are not satisfied – not by a long shot.
Kentucky is rightly demanding of us a larger and even more skilled workforce to meet the needs of a complex and competitive economy.
To do that, we must educate and graduate even more students, in fields responsive to local and global workforce needs … students who have skills to solve problems, work in teams, communicate effectively and think deeply and broadly about challenges.
Kentucky needs more – more pharmacists and physicians, engineers and creatives, artists and communicators, therapists and teachers, health professionals, lawyers and policymakers.
Kentucky needs more – more young people, poised to work and lead and ready to bridge divides … bringing people together, rather than driving them apart, by speaking to what I believe still exists among us: a sense of shared values that revolve around community, a sense of place and a desire to belong.
At UK, we work every day to model a community where everyone belongs and everyone feels accepted for who they are and what they, uniquely, contribute to this place … to this community.
Kentucky needs more – more from us and with us to build a stronger state with a brighter future.
Our students – thousands of them, with boundless potential like Ashton – want more.
At the University of Kentucky, we are committed – each day and in a myriad of ways – to offering that opportunity.
We must … and I believe we will … find ways to do and be even more for Kentucky.