Dr. Eli Capilouto became the 12th President of the University of Kentucky on July 1, 2011. Under his leadership, the Commonwealth's flagship and land grant research university has grown from $2.7 billion to more than $6 billion in total operations and has gained significant momentum in advancing Kentucky – the institution's singular yet multifaceted mission.  
President Capilouto has led a more than $3.7 billion transformation of the campus, aimed at enriching the living-learning experience of UK's students, ensuring their success; strengthening the university's research infrastructure dedicated to solving Kentucky's most intractable health and economic challenges; and expanding UK HealthCare's capacity to teach, heal and serve. Through partnerships with the private sector, increased philanthropy and effective financial management, UK is self-financing much of this aggressive infrastructure development with the purpose of equipping the next generation of leaders who will impact our world for the better.   
Under his leadership, the priorities outlined in the strategic plan and the innovation of the campus has resulted in historic student success; improved care of our people; unrivaled ingenuity; greater trust, transparency and accountability; and a more inclusive community. The progress on campus is resulting in a high-quality workforce, greater diversity and improved well-being for the Commonwealth UK has served for nearly 160 years — all essential to advancing Kentucky.  
A native of Montgomery, Alabama, Dr. Capilouto previously served as provost of the University of Alabama at Birmingham (UAB) and dean of the UAB School of Public Health – a period of remarkable growth and transformation at one of the leading academic and health sciences institutions in the South. Dr. Capilouto holds several undergraduate and graduate degrees from schools within the University of Alabama system, a Doctorate of Dental Medicine from UAB and a Doctorate in Health Policy and Management from Harvard University. He and his wife, Dr. Mary Lynne Capilouto (D.M.D.) a former Dean of the UAB School of Dentistry, have one daughter.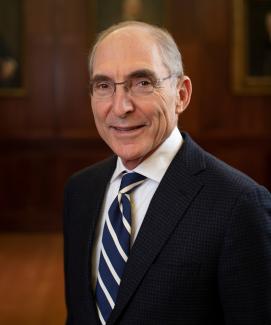 Presidential Evaluations
In accordance with University Governing Regulation GR II. E.2(a), the Executive Committee of the Board of Trustees "serves as the performance review committee for the President."
Since his arrival, President Capilouto has undergone regular performance evaluations, in some cases led by an external consultant, which have measured feedback from various internal and external stakeholders. ​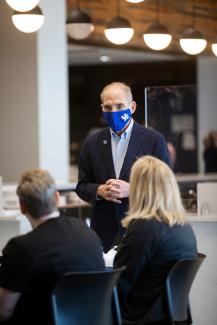 Contact Us
Interested in having President Eli Capilouto attend or speak at an event? It is important to submit your invitation early, preferably at least four to five weeks prior to the event, as his schedule fills quickly. Once the President's Office receives your request, we will review it and respond to the email address you provide. If the President is able to participate, more information and details may be further requested at that time. 
Office of the President
101 Main Building
University of Kentucky
Lexington, KY 40506-0032
Phone: (859) 257-1701
Fax: (859) 257-1760
Email: pres@uky.edu